Commander Tiffany Gibson is the first female Director of Training for the Metropolitan Nashville Police Department.  Commander Gibson has proudly held every rank within the Training Division from Police Officer Trainee, to now Commander.  Commander Gibson graduated from the Training Academy in 2005 with Session 45.  Since then and throughout her career, she was a Training Officer within the Trainee Operations Unit, the CALEA / Accreditation Manager as a Sergeant, and the Lieutenant over Trainee Operations.  She is now the Commander and Director of Training for the Training Division.  The Training Division plays a vital role in the success of every officer from the time they are hired, throughout their careers with us.  Commander Gibson is honored to hold this position, but never imagined she would have the privilege to serve as the Director of Training.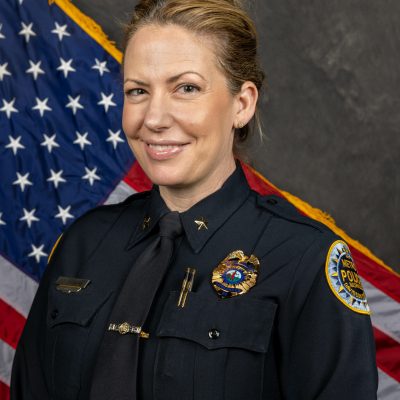 Upcoming 2024 Classes
MNPD will be hosting 8 Training Sessions in 2024. We will host 4 Basic Police Officer Trainee sessions and 4 Lateral Police Officer sessions. Our lateral training sessions will encompass training for our Lateral and Lateral SRO positions. Contact a recruiter today at Recruitment@nashville.gov, or give us a call at 615-862-7341. You can also start the process by clicking "Apply Now" at the top of this page.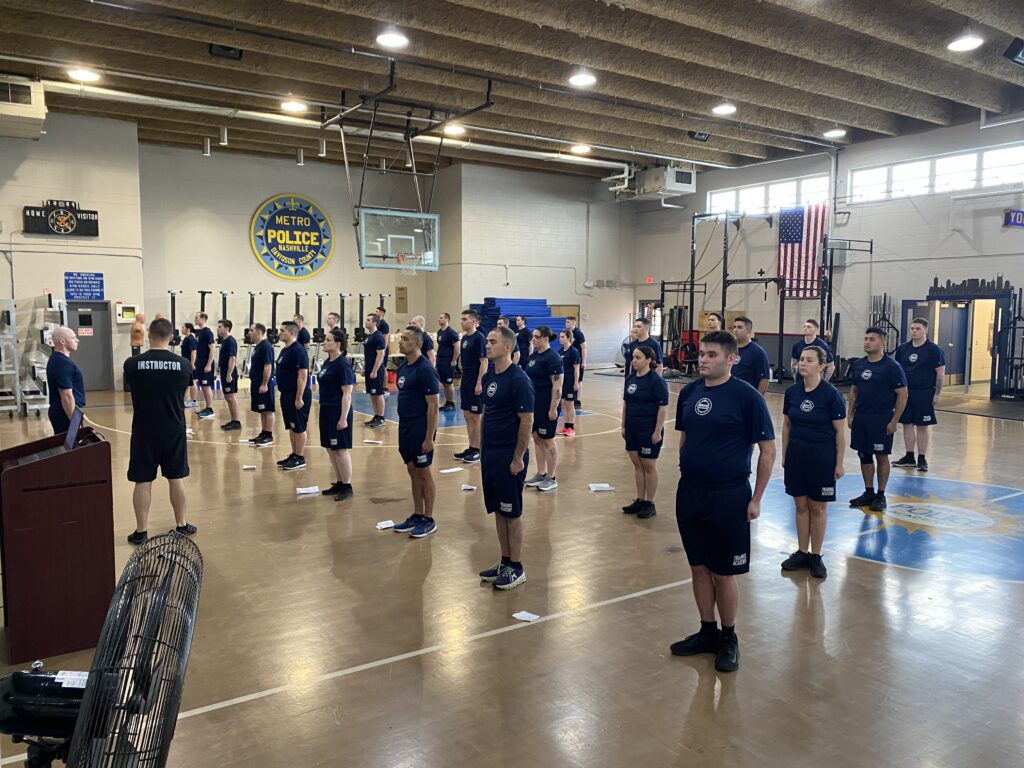 NO BETTER PLACE TO
LIVE
OR
SERVE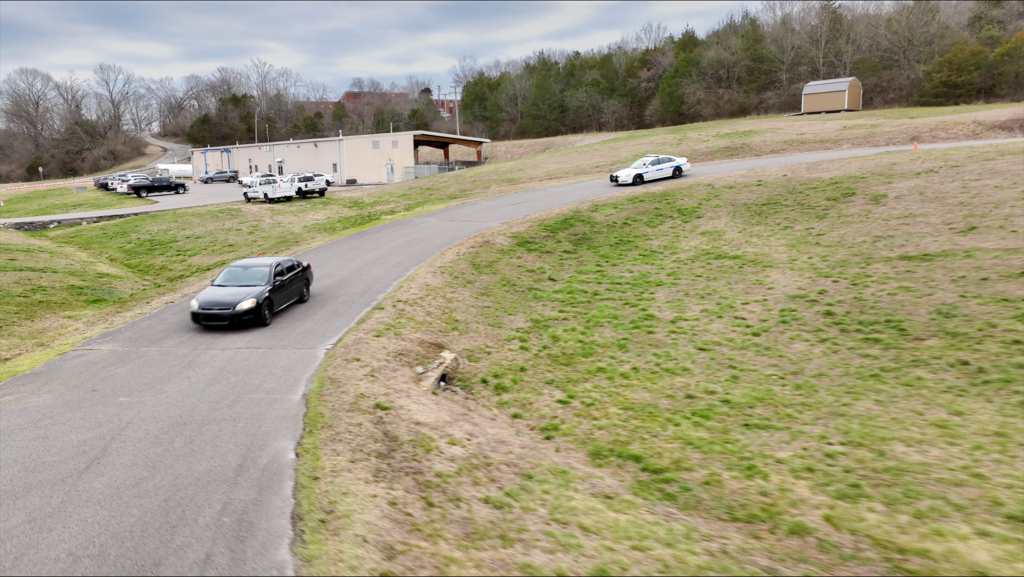 Upcoming Training Academy Dates
Upcoming Basic Police Officer Trainee Training Academy Dates
Upcoming Lateral Police Officer Training Academy Dates
The Metro Police Training Academy has been developing elite police officers since 1970. Since that time, the Training Academy has graduated over 2,600 police officers, and boasts an Academy staff, which represents a multitude of areas of expertise. In addition to being one of the most respected police academies in the country, it is a CALEA accredited public safety training academy. In addition to being one of the most respected police academies in the country, it is a CALEA accredited public safety training academy.
The primary role of the Training Division is the operation of the Police Training Academy where it serves as the foundation of the agency by providing students with the highest quality training and knowledge, to support the needs of the department and the community they serve. The Training Academy provides training to newly hired police officer trainees, in-service training to all police officers annually, and thousands of hours of specialized training to officers from across the MNPD and the Metropolitan Government. All basic and in-service training is approved and monitored by the Tennessee Peace Officers Standards Training (P.O.S.T.) Commission.
Basic Police Recruit Training
Because our commitment to the citizens of Nashville demands that only the highest caliber individual serve as a police officer, our selection process is lengthy and competitive. The Metro Police Department is not in the habit of just handing out badges; to get one, you have to earn it.
The Metro Police Basic Training Program is longer than the Tennessee Bureau of Investigation Academy and the Tennessee Law Enforcement Training Academy combined. It is also longer than U.S. Army Basic Training and the prestigious F.B.I. Academy.
Trainees do not reside at the academy. It is a commuter academy meaning that trainees go home every evening. They will attend training Monday through Friday and will be paid during their time at the academy. In addition to earning a paycheck, trainees will also be furnished with all necessary training equipment.
For police officers, there are many critical elements trainees must learn while attending training. Academics, Ethics, Physical fitness, Community Service, Firearms, and Emergency Vehicle Operations are all crucial to graduating the police academy. Over the course of approximately 19 weeks, trainees receive instruction from the Basic Course Curriculum. Currently, trainees receive approximately 1000 hours of training courses. The basic training program is designed to challenge the trainee – both physically and mentally. The curriculum is developed with the goal of providing Nashville with the most qualified officers.
The Graduation Ceremony represents the successful completion of the Basic Training Academy and is a memorable occasion for all officers. The following special awards are presented at graduation:
Academic Excellence Award presented by American Legion Post #5
Officer Christy Dedman Spirit Award
Physical Fitness Award
Michael Petrina Leadership Award
Law Award
Mike Garbo Firearms Award
Top Cop Award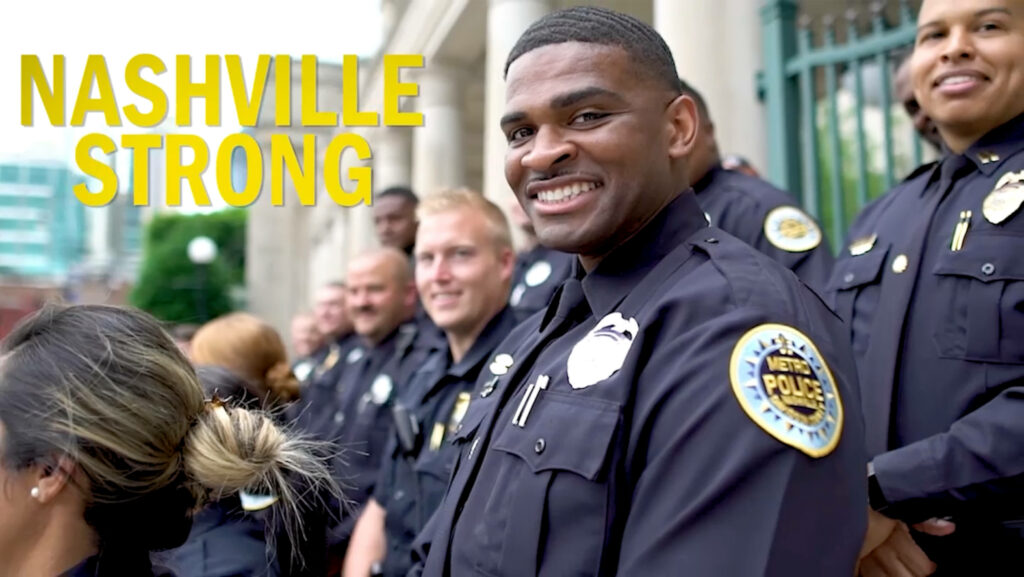 After graduation, officers are on probation while they train and patrol with Field Training Officers (FTO's) in preparation for individual patrol duty. The Metro Nashville Police Department Field Training Program is a six (6) month program designed to provide continued training to newly graduated officers of the Metropolitan Nashville Police Training Academy. The training is to supplement that of the Training Academy and provide each Officer in Training the opportunity to apply the concepts taught in the Training Academy to real life scenarios. Under the observation of Field Training Officers each Officer in Training is expected to demonstrate their knowledge of law and policy, ability to interact with the community they serve, as well as their coworkers, and their problem-solving abilities and decision-making skills.
Field Training Officers are expected to be role models, teachers, mentors, and leaders among their peers. Each Field Training Officer has requested the right to directly oversee the development of the Metro Nashville Police Department's newest officers, which carries an outstanding responsibility to ensure they always maintain the highest standard of conduct.
The Training Division is committed to continued training and education for all employees. Elective training classes are held throughout the year in addition to required training. State law and department policy require all sworn officers to attend an annual in-service training program consisting of a minimum of forty hours of relevant topics. Officers must also qualify with any firearm they carry twice yearly. Officers earn $800 (state supplemented) in addition to their regular salary for this training. The Training Academy Division takes great pride in providing excellent and updated training to their employees.