Serving our community with
pride and professionalism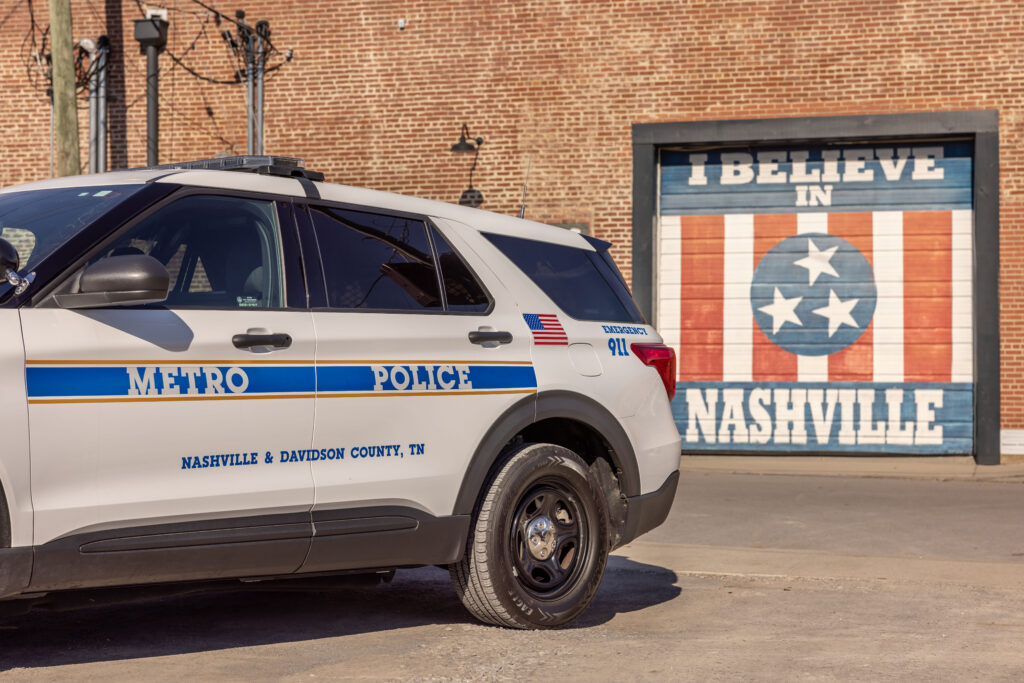 NO BETTER PLACE TO
LIVE
OR
SERVE
Be a part of the new
face of policing
We are looking for people with Integrity, Empathy, Good Communication Skills, Problem Solving Skills and people who are Critical Thinkers. Do you have these characteristics? Come join us! Apply today.
We are an equal opportunity employer. Applicants will not be discriminated against for employment on the basis of race, color, gender, religion, national origin, political affiliation, disability, sexual orientation, gender identity or military status.
The Metropolitan Nashville Police Department is budgeted for a sworn strength of 1,658 sworn police officers. We are budgeted for an additional 369 civilian support staff employees. We currently have 5 Bureaus, 8 Police Precincts and around 60 specialty assignments within the department.
MNPD is hiring

and Music City is a
great place to be a police officer.
The Metro Nashville Police Department is an Equal Opportunity Employer.
Why joinMNPD? We are innovative in our approach to Officer Wellness and setting our officers up for success. We offer a unique Pre – Academy Program and Professional Wellness Section.
Being a police officer can be an extremely stressful job, yet also a rewarding one. We want our officers to have long healthy careers when they join MNPD. 
We set you up for success from day one of employment with us. When you are given a conditional offer of employment with the MNPD, you will be given the option to take advantage of our Pre – Academy Program. Our Pre – Academy Program gives new hires the opportunity to work inside the police department in a civilian capacity until the next academy class begins. When taking advantage of this opportunity, you are learning about the intricacies of the police department: shadowing officers, going on ride a longs, and learning how the many elements inside the police department operate. 
There are many areas within the police department that work together to make us a successful organization. The Pre – Academy Program gives you the opportunity to learn about those areas, study for the upcoming academy class, and build lasting relationships with classmates before the academy begins. 
These are just a few benefits of the Pre – Academy Program. Another benefit while in the Pre – Academy program is working with our Certified Tactical Strength and Conditioning Facilitator and Fitness and Nutrition Specialist, Ecko Johnson. Mrs. Johnson has extensive knowledge when it comes to conditioning and strength training. Mrs. Johnson works individually with each employee to ensure they have a workout plan that suits their needs and will set them up for success. In addition to this, new hires are also assigned a Mentor to help them navigate through the academy and Field Training phases. It's always nice to know someone cares and is reaching out to check on you, and having someone you feel you can reach out and talk to can be vital to your success throughout this process.
*Pre academy is not offered for longer than 2 months, and for no less than 2 weeks.
MNPD sets the standard when it comes to officer wellness. Established in 1986, MNPD's Behavioral Health Division incorporates an officer wellness program, known as the Professional Wellness Section (PWS). It consists of a total of 18 personnel, both civilian and sworn, and a therapy dog (Toby). 
It represents a comprehensive officer wellness program that contains three separate, yet interactive, units: Counseling, Sworn Wellness, and Chaplains. We offer multiple programs and services including counseling, psychotherapy, training, trauma and critical incident response, peer support, family support, veteran support, chaplain services, mentoring, and wellness checks. 
Toby, MNPD's first ever therapy dog, was added to our wellness program in 2022. Toby is a ½ Lab and ½ Golden Retriever mix. In 2023 MNPD contracted with Cordico, the world leader in wellness technology for high-stress professions, to provide customized and instant access to a whole host of public safety-specific wellness resources. Cordico, a Lexipol company, serves agencies like MNPD through the delivery of trusted, proactive, and preventive wellness resources via customized wellness apps which provide confidential support 24/7. 
You will have access each of these services on day one of your employment with MNPD.
Ready to start a career that's bigger than you?
The Metropolitan Nashville Police Department is committed to making Nashville a safe place for all who live, work and play. In doing that, we recruit highly qualified officers to protect our city. Our academy is one of the best in the nation, and holds several accreditations to prove that.